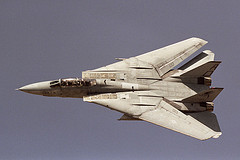 click on photo for more images
The Grumman F-14 Tomcat is the U.S. Navy's carrier-based long-range air defense aircraft. Already in design when the naval version of the F-111 was cancelled in 1968, the prototype first flew in 1970.

The swing-wing Tomcat's main armament consists of six Hughes Phoenix air-to-air missiles controlled by the Hughes AWG-9 radar. The AWG-9 can track 24 targets and selectively engage six simultaneously in an all-weather environment. Deployed with the fleet in 1973, the F-14 replaced the F-4 Phantom II.

In 1984, the F-14 was re-engined with the General Electric F110-GE-400 and designated the F-14D.

The Tomcat was retired from the active U.S. Navy fleet on 22 September 2006.