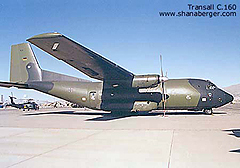 In 1959, Transall (Transporter Allianz) was formed to design and develop a new transport aircraft. The prototype C.160 first flew in 1963. Initial production ended in 1972.

In 1976, responsibility for production of the aircraft was given to Aerospatiale in France and MBB (now DaimlerChrysler Aerospace) in Germany. Production of the aircraft from 1976 to 1985 included updated avionics, a reinforced wing housing and additional fuel tanks.

The C.160 Transall is currently in service with the air forces of France, Germany and Turkey.