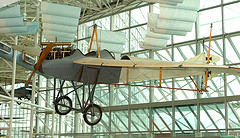 click on photo for more images
The Taube (Dove) was designed by Igo Etrich of Austria and first flew in 1910. Its stability in flight made it attractive to pre-war flyers and the design was built by many aircraft manufacturers, including Albatros, Gotha, Rumpler, DFW, Halberstadt, Jeannin, Kondor, Krieger, LVG and Lubeck-Travemunde.

Due to its availability in large (for the time) numbers, the Taube was pressed into service by the Central Powers as a scout plane at the outbreak of World War I. The Taube's lack of speed and maneuverability saw it quickly relegated to the role of trainer.