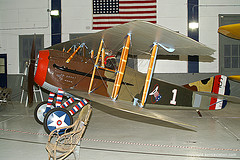 click on photo for more images
The SPAD XIII was an improved version of the SPAD VII including aerodynamic refinements and a more powerful engine. The prototype first flew in April 1917 with production examples entering service in May of the same year.

The SPAD XIII replaced the SPAD VII and later model Nieuports in French fighter squadrons and also served in the air forces of Belgium, Italy and the U.S. This aircraft gained superiority over the Central Power air forces until the arrival of the Fokker D.VII. Almost 8,500 were built.