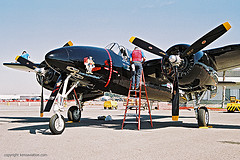 click on photo for more images
The F7F was designed in 1941 to operate from the planned larger "Midway" class carriers. The first prototype flew in 1943. Production models were delivered to the Marines beginning in 1944 but were too late to see combat.
Tigercats did see service in Korea where Marine units flew close support for Army and Marine ground forces on their retreat from the Chosin Reservoir.
The F7F was quickly replaced by higher performance jet aircraft.