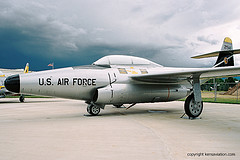 click on photo for more images
The F-89 was a twin-engine, all-weather fighter-interceptor designed to locate, intercept, and destroy enemy aircraft by day or night under all types of weather conditions. The Scorpion carried a pilot in the forward cockpit and a radar operator in the rear who guided the pilot into the proper attack position.

The first F-89 made its initial flight on 16 August 1948 with deliveries to the Air Force began in July 1950. Northrop produced 1,050 F-89s.