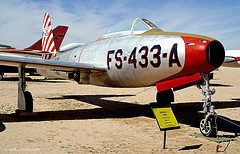 click on photo for more images
The F-84 Thunderjet was the U.S. Air Force's first post-war fighter. The prototype made its first flight in 1946.

The Thunderjet saw extensive service in the Korean Conflict where it was used primarily for low-level interdiction missions.

Around 4,450 "straight-wing" F-84s were built.

The Thunderjet was further developed with swept wings and tail. This version was designated the F-84F.