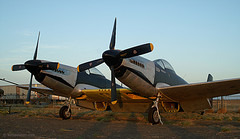 click on photo for more images
The F-82 was the last piston-engined fighter to be purchased in quantity by the USAF. Although it appears to be two P-51 Mustangs on one wing, the Twin Mustang was, except for a family resemblance , an entirely new design.
The F-82's purpose was to provide a fighter with a pilot and co-pilot/navigator to reduce fatigue on long-range bomber escort missions. Delivery did not begin until 1946 and radar-equipped F-82's were used extensively as night fighters.
Twin Mustangs based in Japan were credited with destroying the first three North Korean aircraft on June 27, 1950.