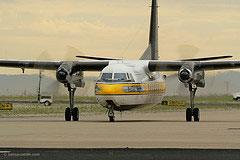 click on photo for more images
The "Holy Grail" of aircraft manufacturers directly after World War II was the development of a replacement for the Douglas DC-3. Fokker's entry was the F27 Friendship with the prototype first flying in 1955.

Fokker contracted with Fairchild to manufacture and market the F27 in North America. Fairchild (by this time Fairchild Hiller) developed a stretch version designated the FH-277 that first flew in 1966. More F27 and FH-227 aircraft were built than any other western turboprop airliner.

In 1985, the U.S. Army acquired two Fokker F27s as transport and jump aircraft for its parachute demonstration team the Golden Knights.