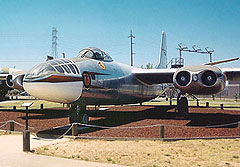 click on photo for more images
The B-45 was designed to counter the threat of German jet fighters in World War II. Aiming at a quick delivery time, North American proposed a straight forward design with minimal development time.
The XB-45 first flew in 1947. The Tornado served as an interim jet bomber from 1948 to 1958 until the larger and faster Boeing B-47 came on-line. Although the B-45 never saw combat, the RB-45 reconnaissance version was used early in the Korean War.