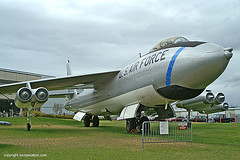 click on photo for more images
The XB-47 was one of four design proposals approved by the USAAF in late 1944. The initial Boeing design was based on the B-29, but post-war research and captured German data investigating swept wing designs caused a radical redesign. The new design featured a 35o swept wing and six jet engines in four nacelles. The basic nacelle design became a standard characteristic of Boeing designs to the present.
The first B-47 flew in late 1947. More than 1,200 were built and served with the Strategic Air Command at USAF bases throughout the world. The Stratojet was removed from operational service in the late 1960's.