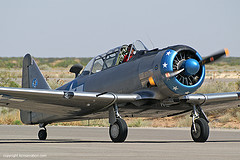 click on photo for more images
A development of the BT-9/BT-14, the AT-6 Texan was the most extensively used trainer of all time with more than 17,000 built.
The North American NA-26 was developed as a Basic Combat trainer and originally designated the BC-1. The prototype BC-1 first flew in 1937. A change of role to advanced trainer saw a new designation--the AT-6 in 1940.
AT-6's sold to the United Kingdom, New Zealand and Canada were named the Harvard. The U.S. Navy designated this trainer the SNJ. Australian AT-6s built under license by CAC were called the Wirraway.
Beginning in 1949, the U.S. Air Force began a program to re-manufacture existing AT-6 airframes. These reconditioned and updated aircraft received new serial numbers and were designated the T-6.