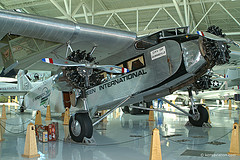 click on photo for more images
The Ford trimotor was based on the Stout 2-AT Pullman. The prototype 4-AT Trimotor first flew in 1926.

The 4-AT and improved 5-AT were the most produced Ford Trimotors with around 200 being built when production ended in 1932. The designation "AT" stood for "Air Transport".

Also known as the "Tin Goose", the Ford Trimotor was also purchased by the U.S. Army and Navy.