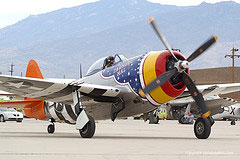 click on photo for more images
A product of constant development of the P-35, the XP-47B prototype first flew on 6 May 1941. It's large size and shape earned it the nickname "Jug".

Originally designed with the "razerback" canopy, a bubble canopy was fitted to later models to improve visibility to the rear. The Thunderbolt was used in both escort and fighter-bomber roles during World War II. Redesignated the F-47 in 1947, this aircraft remained in service with the Air National Guard until 1953.

Between 1942 and 1945, over 15,000 Thunderbolts were built.