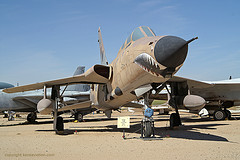 click on photo for more images
The F-105 Thunderchief was designed to replace the F-84F as a high-performance fighter-bomber. The prototype YF-105A first flew in 1955.

Capable of carrying 12,000 lbs of ordinance, the Thunderchief entered service in 1959 and saw extensive service in Vietnam. The two-seat F-105F & G models were used as anti-SAM "Wild Weasel" aircraft.

The Thunderchief was also know as the "Thud". Over 800 were built.